Sábado, 23 de Maio de 2020
You are the Starseeds and Galactic Ground Crew
The 9D Arcturian Council
Channeled by D

aniel Scranton
May 23rd, 2020.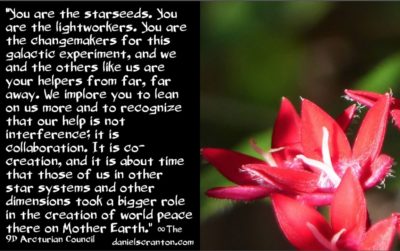 .
Greetings. We are the Arcturian Council. We are pleased to connect with all of you.
We have been in this galaxy for so very long, and we have been able to make connections from beings in every single star system, including of course yours. We have been able to determine that your star system, and your planet specifically, is a wonderful representation of all of the energies that we have ever encountered.
Now, the mixture of energies that you have there on your world is precisely what makes it so challenging to be there. Not only do you have access to all of the trauma, all of the emotions, all of the failures of the other star systems, but you also need to find a way for all of these different energies to co-exist harmoniously. And up until this point in human history there on Earth, you have not been able to achieve this lofty goal. You have not had world peace with a complete lack of interpersonal violence ever, and you might think that makes humanity low on the galactic totem pole, but it does not.
And the reason it does not is because you all have taken on so much that literally no one expected you to be in a place of world peace at this point in your evolutionary history. We all feel responsible for the chaos and the discord there on your planet because we all contributed our energies in the co-creative event that was putting sentient life there on planet Earth. And so, you do not have to feel at all like you are supposed to be doing it all yourselves. You can take the weight off of your shoulders and let the galactic help in, because we were always meant to be a part of the process of attaining world peace on Earth.
And when we refer to ourselves, we are talking about all of us who hail from other star systems. The Earth experiment is our responsibility, and those of you who are there in the flesh are the ground crew. You are the starseeds. You are the lightworkers. You are the changemakers for this galactic experiment, and we and the others like us are your helpers from far, far away. We implore you to lean on us more and to recognize that our help is not interference; it is collaboration. It is co-creation, and it is about time that those of us in other star systems and other dimensions took a bigger role in the creation of world peace there on Mother Earth.
We are the Arcturian Council, and we have enjoyed connecting with you.
---
A Trusty with Privacy Search 
Alternative to Google
startpage.com
Alternatives to YouTubebitchute.combrighteon.com

---
All articles are of the respective authors or publishers responsibility. 
No religious or political creed is advocated here.
Organised religion is unnecessary to spirituality.
Excellent teachings of the masters have been contaminated by the dogmatic control of these religions.
Discernment yes; judgement does not.
If you use discernment you are free to research with an open mind. 
With discernment it is possible to reach the spirit of the letter of any writing and it is also much easier to listen to the voice of the soul that comes from the heart.
Individually

 you can be helped to find your Truth that is different of everyone. 

Please respect all credits.
Discernment

 is recommended.
---
Like this! please bookmark. It is updated daily