Quarta-feira, 6 de Maio de 2020
The Mini-Event / The Mini-Shift 
The 9D Arcturian Council
Channeled by D

aniel Scranton
May 5th, 2020.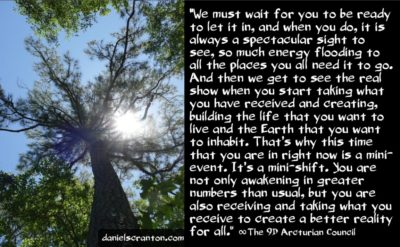 .
Greetings. We are the Arcturian Council. We are pleased to connect with all of you.
We have been noticing the effects of the energies that have been pouring in to support humanity, and we have been very impressed by how many are opening themselves up to receive healing at this time. Whenever someone is told that there is no pill, procedure, or surgery that can help them, they suddenly become more open to the healing energy that is all around them. This usually happens because when a person gives up, when they lose all hope, they also let go of all of the resistance that they were holding on to regarding their illness, their affliction.
Therefore, sometimes being told that there is no cure is actually the best news that a person can get, because that healing energy that they could let in will do much more than just address the symptoms or the virus. That healing energy, when allowed to flow, will include so much more that will benefit the recipient, and what that more is depends on the individual in question.
There is so much more that you as a human collective have been asking for, and those of us in the higher realms have been looking for ways to sneak in the energies that would serve you the most. When someone finds themselves in a situation where they are ready to give up, that is also when that person lights up to the helpers in this universe, those of us who live to give. We are looking for whatever cracks you leave open to deliver all that you have been asking for and more.
And this is the way it has always been for humanity. Of course, we know that you are shifting your consciousness as well, which means there are more eyes on humankind than ever before. All the beings in this galaxy know that Earth is significant. We all know that those of you who have been incarnating on Earth at the key to starting the ripple effect throughout this galaxy and then the universe, and that is why so many want to help.
But none of us can force that help upon you. We must wait for you to be ready to let it in, and when you do, it is always a spectacular sight to see, so much energy flooding to all the places you all need it to go. And then we get to see the real show when you start taking what you have received and creating, building the life that you want to live and the Earth that you want to inhabit. That's why this time that you are in right now is a mini-event. It's a mini-shift. You are not only awakening in greater numbers than usual, but you are also receiving and taking what you receive to create a better reality for all.
We are the Arcturian Council, and we have enjoyed connecting with you.
---
A Trusty with Privacy Search 
Alternative to Google
startpage.com
Alternatives to YouTubebitchute.combrighteon.com

---
All articles are of the respective authors or publishers responsibility. 
No religious or political creed is advocated here.
Organised religion is unnecessary to spirituality.
Excellent teachings of the masters have been contaminated by the dogmatic control of these religions.
Discernment yes; judgement does not.
If you use discernment you are free to research with an open mind. 
With discernment it is possible to reach the spirit of the letter of any writing and it is also much easier to listen to the voice of the soul that comes from the heart.
Individually

 you can be helped to find your Truth that is different of everyone. 

Please respect all credits.
Discernment

 is recommended.
---
Like this! please bookmark. It is updated daily